The Sony PS-LX300USB turntable, as per its name, is a budget turntable with USB capabilities.
I wish turntable model numbers weren't so difficult to type. The Sony PS-LX300USB is such a mouthful that owners probably carry around pictures of their turntable in their wallets, as showing would be easier than reeling off the name of this Sony turntable.
The Sony PS-LX300USB – Let Down By Its Software
Despite its name, the Sony PS-LX300USB turntable does an adequate job of its intended task of ripping vinyl to mp3. The problem is its included software, Sound Forge Audio Studio. People buying USB turntables are unlikely to be looking for a premium turntable; they are more likely to look for a turntable that will get occasional use, but primarily be a workhorse for archiving old vinyl collections. It stands to reason, then, that ease of use is extremely important. Competitor options, such as the included sotware with the Numark TTUSB, are more intuitive and hands off. Of course, if the user were to use the free-to-download Audacity (which does a superior job of ripping than any commercial bundled software), then there is no problem. The main downfall of the included Audio Studio is its ability to split ripped tracks easily – in Audacity, this is a breeze. Beware also that the software does not work on Mac, so an alternative ripping software will need to be used. On Mac, the software Vinyl Studio will serve you well.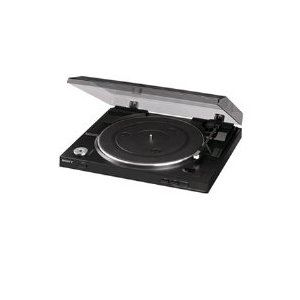 Some users have experienced poor customer service with Sony. If customer service is something you feel like you may need to consult, such as if you find using software and electronics difficult, then seek other options from different manufacturers such as Audio Technica or Numark. The manual is fine, however, and should provide enough detail for the majority of users.
Positives of the Sony PS-LX300USB
On the positive side, the Sony PS-LX300USB is reasonably priced and looks different to the silver turntables that are based on the Technics SL-1200, such as the Audio Technica AT-LP60. This is a welcome change, but the turntable does not achieve the (impossible at this price) feat of looking expensive.
The turntable includes a switch for switching between USB and phono outputs, which allows it to be plugged in to either a phono input or standard auxiliary input. The sound it produces is warm and enticing, if a little thin. For this price, the Sony PS-LX300USB does a really good job of holding speed, which is handy when archiving your records. Don't expect this turntable to be a piece of hifi equipment and you won't be disappointed. It is a tool for converting vinyl to mp3, and it does that job adequately and reliably, one you are used to the software.
The Sony PS-LX300USB is a well-built for the price turntable that will adequately archive your LP collection. If you can get used to the software, or use a different one, the Sony PS-LX300USB turntable provides the hardware required to put all of your old records on to your computer.