Vintage turntables are an attractive option for all people who love good quality music. They have all the benefits of the current best turntables but with the added charm that is typical of vintage goods. However, finding good quality vintage turntables for sale is not easy. For lovers of quality vintage record players, the thrill of the hunt is part of the fun, if not the highlight of the whole exercise. Much like those who search for second hand retro clothing, if it is not found in a box somewhere having not been touched for 20 years, it's just not worth having.
Read on for our top 4 tips on finding vintage turntables that will make a great addition to any music loving household.
The Best Turntables For The Money
1. Second Hand Stores
To play great analog music, you sometimes need to go analog to get a good deal. Some of the best turntables of the 70s and 80s are lying around at second hand stores. With vintage turntables lying around that are looking worn out and old, the average second hand store patron does not recognise the value of a restored vintage turntable. I have seen early 20th century gramophones on sale for $100. If no vintage record players are in stock, there is always a collection of old vinyl records to peruse. Unfortunately (or fortunately for some), Kamahl and Herb Alpert & The Tijuana Brass tend to feature quite prominently in their for sale boxes, but some rarer records can be bought for a matter of a few dollars. If you feel so inclined, second hand stores are also great place to look for vintage clothing and furniture. Make a day of it with a few friends – preferably ones that are not after vintage turntables. You do not want any competition!
2. Garage/Yard Sales
Similarly to thrift stores, yard sales offer a fun solution to your vintage turntable needs. The serious bargain hunters get to yard sales very early on (as early as 7am sometimes), so some good deals can be gone by then. However, yard sale hunters are often antique collectors or sellers who are looking for something a little more aged, or something that is not electronic. Vintage turntables often get overlooked and will sit waiting for you to come along and snap them up. These sales are a good source of vintage turntables that are ready to play immediately, since some may have been used up until very recently and therefore be in good working order. People moving house or trying to make ends meet will usually sell vintage turntables since they have no interest in high fidelity audio for low cost, preferring iPods and other forms of convenient media. Never mind – their loss is your gain. There are even better opportunities than at second hand stores for fantastic old records that have been laying around collecting dust, but getting there earlier rather than later to score the best vinyls.
3. Your parents
Your parents probably had a turntable and it might have even been a good one. With some new components, your parents' old record player could be turned in to something better than the entry level turntables available currently. If you have no idea whether your parents even had a record collection, it's definitely worth asking. Many members of the older generation have moved on from vinyl, but beware the nostalgia kicking in when you ask to take their vintage turntable off of their hands! All of a sudden they will be wanting to bring out the ol' LPs for a spin again. Such is the mystique of vintage turntables…
Finding Specific, Rare Vintage Turntables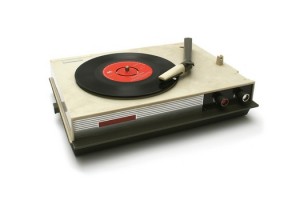 4. Ebay
Vintage turntables on Ebay are a double edged sword. There is a chance that you will find a fantastic little gem, but on the other hand, you are competing against other buyers who know what things are worth, and sellers who are more likely to know the value of their vintage turntable. As you cannot inspect the turntable, it is difficult to judge its condition and whether there will be additional costs to you to replace some of the components such as turntable belts. This does not preclude you from getting some great deals however, and for those who are after something specific it is the best way to go.
If you are a lover of vintage turntables, have a look online for second hand stores in your area; in your local paper for yard sales; or on Ebay for some fantastic vintage turntables that will last a long time with a little love.