The Shure M44-7 are a hugely popular model of cartridges intended for use by DJs. The original version of this cartridge was produced for decades, but production ceased in the 90s. It has recently been revived to bring the Shure M44-7 to a new generation. The new model is an exact replica of the original.
The Shure M44-7 is a cartridge with absolutely legendary tracking ability. Used by battle DJs since the beginning of turntablism, the Shure M44-7 is definitely one of the better cartridges for sticking to the grooves of a record. It will track just about any warped record and remain faithfully in the groove during any cutting and scratching.
The sound of the Shure M44-7 can leave a little to be desired to some ears. The highs tend to be rather shrill. The bass is extremely weighty and pronounced. This is one of the reasons hip-hop DJs tend to enjoy using the Shure M44-7. A similar version of the M44-7, the M44-G, is lighter on bass and warmer in the treble.
Both the M44-G and M44-7 track relatively lightly, at 1.5 to 3 grams. This is good news for preserving your records.
Who Should Buy the Shure M44-7?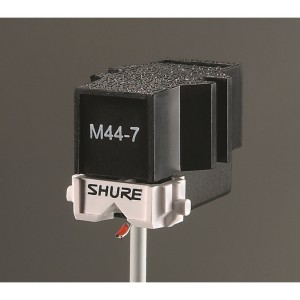 This cartridge is clearly intended for use by DJs interested in turntablism techniques and battling. It especially suits hip-hop DJs due to the massive bass. The Shure M44-7 is a great
cartridge for people learning the art of turntablism as it sticks to the groove like glue. It also takes little skill to set up and is very close to being completely "plug and play".
If you are interested in home listening, although the Shure M44-7 will not disgust you, there are plenty of better cheap options around that will provide a more pleasant experience. The bright treble, especially on a cheap system, will fatigue any listener. A DJ looking for a cartridge both for listening and DJ mixing will much prefer the M44-G, as its smoother tonal balance will provide a much more relaxed experience.
Shure M44-7 Specifications
Standard 1/2 Inch Mount
Spherical Tip
Tracking Force: 1.5 to 3 grams
Output: Ultra High
Net weight: 6.7 grams