The Sony PS-LX250H turntable is Sony's bargain basement record playing offering.
This turntable is solely suited to simply playing records, not DJing. Those interested in DJing should check out our section on DJ turntables.
The appearance of the Sony PS-LX250H turntable is rather unique in this price range. Whilst competitors have gone for the "DJ look", modelling their turntables after the Technics 1200, Sony have gone for more of an early 80s look. In fact, the turntable looks very similar to one that would have been bought as part of an all in one system a few decades ago.
The appearance is extremely tidy, and the buttons all placed logically. There's no denying that the turntable looks cheap, however. It looks thin, especially the tonearm which is minuscule. It may not wow any guests, but will surely act as a talking point for those who thought vinyl died in the 80s.
The functions of the turntable are basic and to be expected at this price range. It plays 33 and 45 RPM records via automatic play. A cueing lever is included as well if manual cueing is desired.  A phono stage is built in, meaning that a phono input is not required on your amplifier – any old auxiliary input on an amplifier or receiver will do.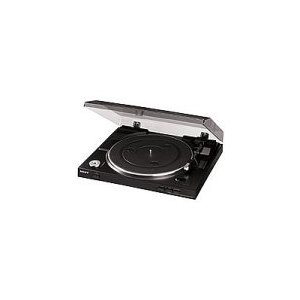 The main problem with the Sony PS-LX250H is its audible "wow and flutter", or "speed variation" for the non-turntable nerds. Different users have different experiences with this – it's likely that the factory in China that makes these has a reasonably wide variation in quality control. If you're prepared to ask for a refund if you are one of the very few people who get a lemon, then you should rest easy buying this turntable.
The Sony PS-LX250H compared to others in its price range
The most direct competitors of the Sony PS-LX250H are the Audio Technica AT-LP60, the Pyle PLTTB1 and the Numark TTUSB, as discussed in our best turntables under $100 article. The Sony PS-LX250H turntable differs to its competitors in that it is fully automatic, but otherwise many of the features are the same. A small difference is build quality – the Sony PS-LX250H is a little more lightly built than the Audio Technica AT-LP60 or the Numark TTUSB. For someone keen on the Sony's automatic play and looks, however, this could easily be overlooked.
Sony PS-LX250H specifications
Drive type: belt drive
Wow/flutter: <0.25% WRMS
Signal to noise: >50dB
Weight: 2.7kg
Conclusion
The Sony PS-LX250H provides a great option for people looking for a very cheap turntable that doesn't look like a UFO. Its automatic play and included dust cover will sway potential buyers towards purchasing the Sony PS-LX250H turntable.