The Denon DP-29F turntable, like the DP-300F, is a currently available Denon turntable. Cheaply priced, the Denon DP-29F competes against turntables such as those from Audio Technica and Numark.
If you've browsed around our site including our lists of best turntables for each price range, you will not that the Denon DP-29F does not feature on any of our lists. Here is a short list of reasons why.
Why the Denon DP-29F is outdone by its competitors
1. No removable cartridge
Any turntable that touts itself as one that focuses on listening quality must allow the user to change cartridges. Different ears suit different sounds, and the ability to change cartridges is one of the greatest features of the vinyl hobby. Not feeling like a warm hug of sound? Change to a more cold, analytical cartridge.
Furthermore, the pre-included cartridges on turntables have traditionally been rather poor, and the cartridge on the Denon DP-29F is no exception.
2. No adjustable counterweight
This goes hand in hand with the lack of removable cartridge. When cartridges are not removable, there is no point in having an adjustable counterweight as the tonearm balance will always be the same.
3. No adjustable anti-skate
The lack of anti-skate is rather unfortunate. Cheaper turntables always benefit from some form of anti-skating, which improves sound quality and reduces wear on records.
Is the Denon DP-29F for anyone?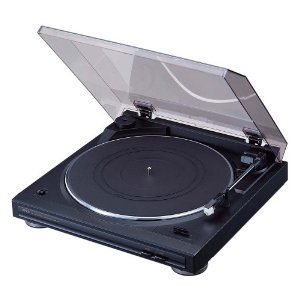 Let's get past that its made chiefly of plastic – of course it is at this price. It's simply less worthy plastic than other pieces of plastic. Denon is a brand of great repute 99% of the time. Their cartridges and more expensive turntables are great.
The turntable does include a phono preamplifier, which allows it to be plugged in to any amplifier. It also plays records…but not that well. It is prone to speed changes, and its fully automatic technology seems to be prone to breakage.
The Denon DP-29F is simply outdone by its competitors. Even the Audio Technica ATLP-60 provides the same features for a more affordable price. The ATLP-120 is the best option as it has the features that have been highlighted as lacking in this article.
When considering sound quality, the Denon DP-29F simply will not provide sound quality superior to a CD player of equivalent price. If vinyl is your thing – and it's great that it is – look elsewhere than the Denon DP-29F in this price range for a superior turntable.