The best phono preamp under $200 will not provide you with a stunning improvement in sound. What it will provide is the ability to play a turntable through an amplifier that does not have a built in phono preamp.
You can check whether you need a phono preamp by first checking your turntable to see if it has a switch between line output and phono output. If it has no such switch, which will definitely be the case for pretty much any table before the year 2000, then you'll need a preamp. That is unless your amplifier has a phono input at the rear of the unit, which means you can plug the turntable straight in to it as the amplifier has a built in phono preamplifier.
Hence, the main population that will want to buy a cheap phono preamp are people who own a vintage turntable and are interested in playing vinyl through their
Best Phono Preamp: Our Top 5
The list starts with an unusual choice, the Hagerman Bugle. This phono preamp comes pre-assembled or you can buy it as a half-assembled kit and build it yourself. For $189, it comes highly recommended for an affordable phono stage. The Bugle is very much a word of mouth marketing thing amongst audiophile circles. It shouldn't be a concern that Hagerman have a cheap looking website and are not sold through retailers – audiophile manufacturing is a hobby in itself, and even some companies that make extremely high end components only have a handful of employees working for them.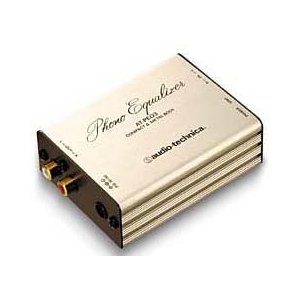 Audio Technica have a fantastic reputation for budget audio components. Their cartridge range under $200 is simply the best available.
The Audio Technica PEQ3 is a cheap phono preamplifier that will do a good job of pre-amplification, but won't do much for improving the sound. Indeed, the PEQ3 is a phono preamp that will simply do its job. At under $100, this is to be expected. If you just want to play vinyl, then purchase this model. If you're looking for a sonic improvement, look elsewhere.
#3 Rega Fono Mini
 Rega has a superb reputation when it comes to audio components. The Rega Fono Mini is at the bottom end of their phono preamp range, but does not skimp on quality. It is exclusively for moving magnet cartridges, which suits the price range well since people spending $500 or more on a moving coil will buy a preamp to suit. For around $150, the Rega is a top notch component for listeners interested in great sound quality for an affordable price.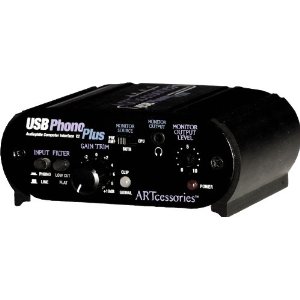 This little unit is one of my favourite pieces of technology and a contender for the best value phono preamp under $200. I highly recommend it to anyone wanting to rip their vinyl collection to their computer. Putting a vintage turntable through this and then in to a computer will provide a much higher quality recording than using a cheap USB turntable.
It's not a bad little preamp either. Like the Audio Technica, it will not do a great deal in terms of improving sound. It has adjustable gain for those quiet cartridges. If you are considering ripping your records, definitely pick up the ART USB Phono Plus.
Best Phono Preamp Under $200: Conclusion
The list, for once, is pretty clear cut. If you want to punch well above the price range, go for the Hagerman Bugle. If you want USB recording capability, go for the ART. If you want a reputable brand that you can buy through a store, the Rega Fono Mini fits the bill. And if you just want something for ultra-cheap that will do the job, go for the Audio Technica PEQ3. The best phono preamp is whatever suits your personal needs.